It's Sunday around noontime and we've been here in Amsterdam for about a day, so I guess it's been about 2 days since I left Austin – between all the time zone differences and traveling, my sense of time and place is getting a bit skewed. Yesterday's flights went remarkably well – I had no one sitting next to me on either of the long legs from Austin to NY and NY to London – sweet!! The flight from London to Amsterdam was very short. The only problem was that my bike didn't make it on that last flight. I could bore you with all the details and headaches about getting the bike, but the short version is that I met Paul at the train station downtown and we went back to the airport later in the evening to get my bike. We really enjoyed carrying the boxed bike through the raining streets of Amsterdam from the train station to the hotel! So, yes, it's raining here. Not the way we wanted to start off the trip! I naturally always envisioned our journey starting off after a leisurely Sunday morning drinking coffee in an outdoor café, but that's just not the case. It's chilly – high 50s or low 60s – so between the chill and the rain, it will make for a challenging first day on the road. We're hoping it will get increasingly drier this afternoon and that makes it easier to screw around here a little longer.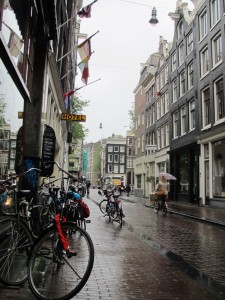 Amsterdam has been just about like I expected it – everywhere you look could be an iconic photograph with all of the traditional buildings and canals. The locals are all friendly and usually they speak good English. We wandered around town a LOT yesterday – getting something to eat, finding a good pub with live Tour de France coverage, back and forth to the train station because of the bike, and just generally wandering around. Because of all the tourists and the general party nature of the downtown area, it kind of reminds me of the French Quarter in New Orleans, and perhaps a bit like the Latin Quarter in Paris. Most people get around town by bicycle – even in the rain – and one of the first things you have to do is get used to a lot of bike traffic. Coming from the US, we tend to look out for cars, but bikes are everywhere and it takes a little getting used to having to watch out for them before crossing the street. Yes, I know I'm a cyclist and should have an instinctive nature about such things, but that is just not the case. Going to the Anne Frank house was one of the priorities for sightseeing, but the lines are just too long, especially for standing in the rain and we're just going to have to take a pass. I guess my excuse is that yesterday's debacle with getting my bike from the airport shifted our focus and got us a bit disorganized. Oh, and the fact that when I went to bed last night that I had been up for 36 hours straight. The good news is that I got about 10 hours of sleep last night – a heroic effort since I'm a notoriously terrible sleeper! We need to visit a bike shop and get a few nuts and bolts to replace the ones Paul left in his kitchen back home and then we'll hit the
dusty
wet trail to Arnhem where a hot shower and calmer night life awaits us.